Nov, 08, 2022
Comments Off

on When your closet Windows server crashes you have options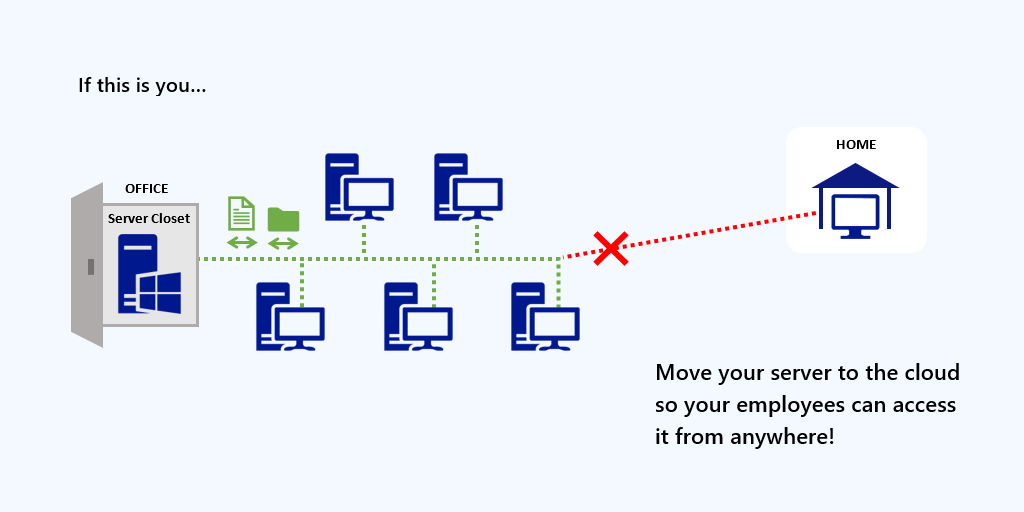 Your closet Windows server crashes. All of your staff are standing around unable to do much work. The internet doesn't work, no one can access their files. Jeff, the office tech guru is on the phone with your IT and doing things in the closet. You're about to have a conversation with your IT that could end up being expensive.
Before you spend a lot of money, just remember you have some options.
Option #1: Follow your IT's lead. They said they would be there within an hour. Emergency rates apply. They don't know how long it will take but they may be able to repair the server in a few hours. You are at their mercy but you trust they know what they're doing and they'll work hard to get it back online.
Just realize this option may end up being expensive, not only in IT labor, but downtime for your office. Also the server might just crash again in the near future.
Option #2: Buy a new server. A server can be a little bit like a car without the same life span. You don't get 200,000 miles, you only get about 50,000. They generally last somewhere between 5 to 7 years. If yours is older than that you're living on borrowed time.
Because:
It's often hard to get replacement parts for older servers especially if the problem is something like a motherboard, memory or a RAID 5 card.
Restoring from a local backup might fail, especially if you were backing up to an external hard drive. In many cases, if the server crashed due to a power outage the external hard drive also crashed at the same time.
Operating systems running on older hard drives just bog down over time. This forces the server to use more resources to keep running which puts a heavier load on these older parts and makes them more susceptible to failure.
The answer: consider buying a new server. But realize that it generally takes 1 to 2 weeks for a new server order to come in. It's hard to find them locally. Sometimes your IT can set you up on a temporary server while you're waiting for a new server to come in. But this can be double work so your cost in labor can skyrocket pretty quickly. Also you will incur the cost of the new server and licenses.
Option #3: Move to the cloud. A cloud server in Amazon Web Services can be set up in a few minutes and is inexpensive. If you have a cloud backup, you can restore your data to a cloud server quickly using the internet speed of the datacenter which is usually in Terabits per second, not the mega bits per second of your local network.
Then you need a way for your computers to connect securely to the cloud server. WitzEnd Computing uses TrueStack Direct Connect, a VPN management server, to connect on-premise Windows and Mac computers to the cloud.
WitzEnd Computing can migrate your domain to the cloud if you have a working Active Directory domain. If the AD domain crashed and there isn't an easy restore option, we can set up a new AD domain in the cloud and reconnect your computers. This can take a little time, but you would be required to do this with Option #1 and #2 anyway and it's less time because in those options we would need to first repair or set up the restored or new on-premise server before we can configure the domain.
Depending on the size of your organization you could be up and running on a new cloud server within a few hours.
A better way.
A better way forward is to avoid the crash all together by planning out your cloud migration before your server reaches the end of it's life.
Bonus: Nonprofits can receive up to $2000 in AWS credits through Techsoup!
Need help with your migration? Contact WitzEnd Computing today for a free migration estimate.
[email protected] or call (619) 301-3501 or visit witzendcomputing.com