Feb, 24, 2019
Comments Off

on 8 Reasons why you should move to a cloud server
1 – Anywhere Access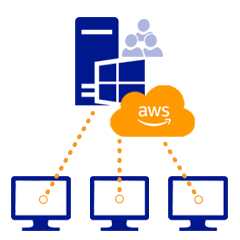 If you move to a Windows cloud server you can access your files on a laptop or desktop computer wherever you are located as long as you have internet access. You can access your files outside of the office, from home or at another office. You can give access to contractors and third party's who aren't in your office.
2 – No more server replacements
On premise servers usually last about 5 years before they need to be replaced. Cloud servers do not need to be replaced, just upgraded. Upgrading a cloud server is a less expensive and a simple process compared to replacing an on-premise server.
3 – Cloud servers are more secure
A cloud server is housed in a secure data center with 24/7 monitoring and high-end network firewalls to secure against attacks. This is compared to an on-premise server that is only protected by your local firewall.
4 – Cloud servers are more reliable
The datacenter that houses a cloud server has backup power and backup internet compared to your on-premise server that may crash when there's a local power outage.
5 – Less down-time
A cloud server is more reliable than an on-premise server so there's less downtime. If there are problems with the server they can be resolved remotely compared to an on-premise server that usually requires a tech onsite to resolve the problem. If an on-premise server crashes, the entire staff can be down for anywhere from a day to a week while they wait for the repairs.
6 – Easy expansion
A cloud server allows you to easily expand to new offices or even move your office without having to set up a new server closet.
7 – Free up storage space
A cloud server will free up your server closet for other uses.
8 – Quickly add more Hard drive space and memory
With a couple of clicks you can add more hard drives and memory to a cloud server. Upgrading memory and hard drive storage on an on-premise server can be expensive in parts, labor and downtime
Contact WitzEnd Computing for a cloud services quote. [email protected] or call (619) 301-3501